75 Years of Unique Tooling Solutions for Precision Tooling
75 Years of Unique Tooling Solutions for Precision Tooling
Industry-Leading Technology
The Bowman Story
Our focus is to provide the global automotive tooling industry with highly engineered tooling solutions that produce large, complex parts made of Ultra Strength Steels and Aluminum to run in presses up to 3200 Tonnes. Our highly skilled and experienced team applies the latest in technology, systems and services that have made Bowman Precision Tooling a leader in the global tooling industry.
Tryout Capacity
Mechanical press produces 1500 metric tonnes and has a bolster size of 2.5m X 6m, utilizing a full tonnage Micro-Inching. This tryout capacity allows us to produce tooling for presses up to 3200 tonnes.
Machining Capacity
In house machining capability of 6m x 2.8m x 1.5m in 5 axis.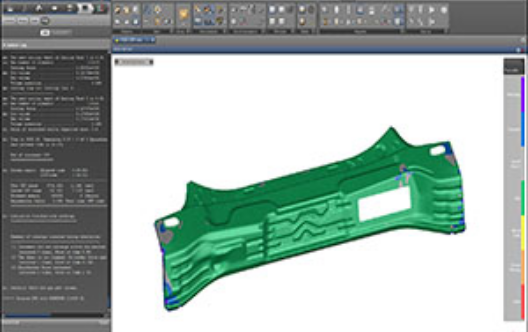 Process Simulation
Our Process Developers have extensive experience in Advanced and Ultra High Strength Steels and Aluminum. They apply this knowledge using advanced FEA engineering software such as Autoform to develop robust processes that ensure that your tooling has the best possible performance and repeatability.
Die Design
Our experienced die designers implement the latest in die design technologies to ensure the tool performs to the customer standards and expectations, throughout the life of the tool.
Die Simulation
We use kinematic software to perform virtual tryouts of every die. This ensures the function ability of every component, identifying potential interference and verifying strokes per minute.
Unique Solutions for Precision Tooling
At Bowman, we enjoy the reputation as a leader in the global tooling industry by building strong, long term relationships with our customers.
We continue to succeed and grow by continuously challenging ourselves to further our knowledge and experience in producing metal stamping dies for GEN 3, Dual Phase, Multiphase, Complex Phase, TRIP, Aluminum and Stainless steels used in the automotive industry.
At Bowman, we are committed to all of our partners, whether they are customers, employees or suppliers.
We will always work to ensure that these relationships are strong and that our clients' expectations are met or exceeded with every project.
Bowman has a capable and experienced engineering department, utilizing the latest technology and supported by a motivated and cross functional manufacturing team. With customer service being at the forefront of all that we do, our customers can be assured that we will bring them the best tooling for their needs every time.
Our mission is to be a leading world-class tooling source, serving domestic and international markets.
Purpose
Our purpose is to produce high quality tooling, for advanced steels with complex geometry, engineered for improved productivity and reliability to each of our clients.
Quality Policy
It is the quality policy of J.P. Bowman Ltd that management and employees are committed to meeting and exceeding our customers' requirements and expectations in quality, delivery, reliability, price, and technology.
Vision Statement
Bowman innovates tomorrow, today. Our unparalleled dedication to service that we bring to our clients on each and every project is a testament of our commitment to your success. We are constantly striving to ensure that you are at the forefront of your industry, by ensuring we are at the forefront of ours. In doing this, we deliver innovative and highly sought-after solutions to your tooling challenges.
Manufacturing Superior Dies
Bowman is registered and dedicated to the ISO 9001:2015 international standard. Our Quality Assurance Department utilizes the latest in Blue Light Scanning technology for part verification and manufacturing process. We are committed to providing our customers with superior quality services & traceability. At Bowman, we are constantly striving to exceed customer expectations by providing outstanding support and innovation. The continuous satisfaction of our customers is the best gauge of our dedication to quality and service.
3D Scanning
We use the latest in Advanced Light Scanning Technology in our part development and validation processes and can use this technology to provide accurate & timely quality reports on the entire part. We also utilize CMM technology in our capability studies.
Dies that Perform
At Bowman, we pride ourselves on the solid reputation that we have built over the years. Many of our customers know the peace of mind that comes with working with our team and have come to understand that when we commit to something, we will in fact do it. They know that we will never commit to something we cannot do.
Reputations like ours are hard won and easily lost, this is why we take it very seriously. We understand that we are only as good as the last project that we have completed. Many of our customers have developed a comfort level so strong that they choose not to "buy off" on our tooling prior to shipping or attend Homeline "buy offs", even internationally. They know through experience that they can trust our word and workmanship.